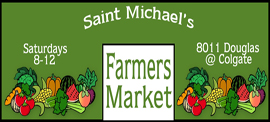 Welcome Ministry
This ministry welcomes those who are new to Saint Michael, including visitors, new members, and those who transfer from other Episcopal churches.
Newcomers are incorporated into our parish family in several ways:
Newcomers' Luncheons with the Rector
The Welcome Ministry sponsors two luncheons each year for all those who are visitors, regular visitors or new members. If you are new to Saint Michael, please join us for lunch and a time of conversation about this parish and the ways you can be engaged in ministry.
Newcomers' Weekend
Every spring and fall, Saint Michael offers an adult Newcomers' Weekend for those interested in joining the church. Even if you're a life-long Episcopalian, this is the best way to learn about Saint Michael and meet others new to the parish. The class takes place over a weekend and concludes with confirmation. It covers the worship, practices and governance of the Episcopal Church as well as the traditions, programs, and ministries that Saint Michael offers.

The schedule for the Spring Newcomers' weekend is as follows:
All events are in the Coke Activities Room. Click a date for more information or click here to register for the weekend. Questions? Please contact Tish Visinsky or Ann Mills at 214-363-5422 or .
Nametags
Knowing the names of the people in your church home is an important piece of becoming involved. Please make sure you wear your nametag on Sunday mornings or when you are at any Saint Michael event. To order a nametag, sign up at the reception desk in the Lanai.
Transfers
If you are interested in transferring your membership from another church to Saint Michael and All Angels, please contact Celise Stephenson (Church Registrar) for more information on how this process works. She can be reached by email or at #214-363-5471 ext. 223